Read..This is the news for you ....peeps ...always come back for more......culled from fc barca
..click here only if you are using your phone http://pin.bbm.com/C002329DA to join to our bbm channel, or just search bbmchannel prettypeoplenaija
NOW THE NEWS IN FULL.....
Oct 28th 2015, 22:16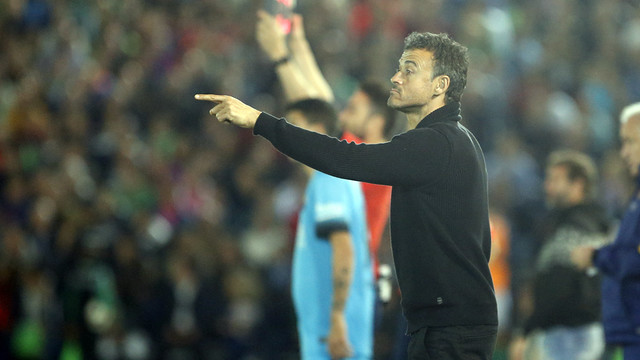 The head coach highlights the warm welcome received in Extremadura and the outstanding atmosphere in Villanueva de la Serena

FC Barcelona are leaving Villanueva de la Serena without the victory they sought. The last 32 tie in the 2015/16 Copa del Rey will have to be decided at Camp Nou on 2 December.

Luis Enrique spoke to the press following his team's scoreless draw with Villanovense.

"I am happy with the team's performance," he said. "For a player, it isn't easy to play a game when you normally have fewer minutes and you have less rhythm," he added.

Here are the highlights of what Luis Enrique had to say following the game:

On the playing time given to the reserves:

"Clearly, with more minutes, the players perform better, but I haven't seen any apathy and I'm satisfied."

"I'm a coach and I have to manage the minutes of everybody. They're decisions, and I'm happy with the ones I take."

"The criteria for choosing the captain is that Adriano is the player who has spent the most time on the first team. They next one would have been Bartra."

"I think that Samper can play inside and he played well. He had a complete game, just like Kaptoum, who we tried to protect because he's played few games and we didn't wanted to overload him. I liked all the Barça B players who played."

On Villanovense:

"I would like to highlight the hospitality we received from all the people of Villanueva de la Serena, from the club and the great atmosphere. I'm very glad to have come."

"Knowing that they are not in the best situation in their group in Second B, Villanovense had a very good game; they competed very well and created problems for us. They were helped by the excitement generated by these games."

On the Mascherano suspension:

"I would have liked him to have the shortest possible ban. I hope these situations are not repeated."
KEEP SCROLLING TO THE END ...WE STILL GOT LOTS MORE .......
Revenge is a Poison meant for others, which we end up swallowing ourselves. Vengence is a Dark Light that blinds all who seek it. Don't argue with Idiots.. They will bring you down to their level and beat you with experience.
Source :
http://www.coolnsmart.com/wise_quotes/
YOU CAN SKIP THIS PART(short joke)...
A young couple moved into a new neighbourhood. The next morning while eating breakfast, the young woman saw her neighbour through the window hanging the wash outside.
"That laundry is not clean," she said. "She doesn't know how to wash correctly. Perhaps she needs better laundry soap".
Her husband looked on, but remained silent. Every time the neighbour would hang laundry to dry, the young woman would make the same
comments.
About one month later, the woman was surprised to see nice clean wash on the line and said to her husband: "Look, she has learnt how to wash correctly. I wonder who taught her this!"
The husband replied: "I got up early this morning and cleaned our windows."
And so it is with life.
What we see when watching others depends on the purity of the window through which we look.
Easy to discuss other people, their lives and things that don't really concern us.
Yet we tend to forget- our window isn't that clean after all.
Clean up your window with the WORD! (THE TRUTH.)
LORD, please give us the strength, humility and courage that we may work on our faults first rather than seeing the faults in Others and castigating them.
Have a beautiful Week !
..click here only if you are using your phone http://pin.bbm.com/C002329DA to join to our bbm channel, or just search bbmchannel prettypeoplenaija
..click here only if you are using your phone http://pin.bbm.com/C002329DA to join to our bbm channel, or just search bbmchannel prettypeoplenaija