Read..This is the news for you ....peeps ...always come back for more......
..click here only if you are using your phone http://pin.bbm.com/C002329DA to join to our bbm channel, or just search bbmchannel prettypeoplenaija
NOW THE NEWS IN FULL.....
Oct 27th 2015, 17:19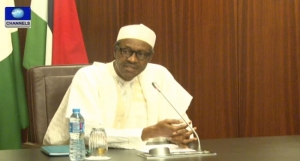 Nigeria's President, Muhammadu Buhari, has congratulated Prince Adeyeye Ogunwusi on his emergence as the 51st Ooni of Ife and successor to the late Oba Okunade Sijuwade.
In a statement released by the Special Adviser to the President on Media and Publicity, Femi Adesina, President Buhari rejoiced with Prince Adeyeye on his nomination as Ooni by the kingmakers of Ife after a keenly contested, but peaceful selection process and confirmation on Tuesday by Governor Rauf Aregbesola of Osun State.
As he prepares to begin the rites of ascension to the revered throne of his great ancestors, President Buhari urged the Ooni-designate to commit himself to carrying all his subjects along to a new era of peace, stability and progress in Ife, Yorubaland and Nigeria as a whole.
The President called on Prince Adeyeye to be prepared to put his new position as Ooni and principal custodian of the rich cultural heritage and traditions of the Yorubas to good use in the service of his people and country.
President Buhari also urged the Ooni-designate to dedicate himself to building on and surpassing the worthy legacies of his much-acclaimed predecessor, Oba Sijuwade and working with government and other traditional rulers across the country to foster greater harmony, peaceful co-existence and faster socio-economic development of his people and all Nigerians.
As Prince Adeyeye ascends to the grand throne of the Ooni of Ife, the President prayed that God Almighty would grant him the immense wisdom and courage he would require to oversee further progress and greater prosperity for his people.
He wished the new Ooni a long and highly successful reign in the service of his people and country.
The post Buhari Congratulates New Ooni Of Ife appeared first on Channels Television.
KEEP SCROLLING TO THE END ...WE STILL GOT LOTS MORE .......
Revenge is a Poison meant for others, which we end up swallowing ourselves. Vengence is a Dark Light that blinds all who seek it. Don't argue with Idiots.. They will bring you down to their level and beat you with experience.
Source :
http://www.coolnsmart.com/wise_quotes/
YOU CAN SKIP THIS PART(short joke)...
A young couple moved into a new neighbourhood. The next morning while eating breakfast, the young woman saw her neighbour through the window hanging the wash outside.
"That laundry is not clean," she said. "She doesn't know how to wash correctly. Perhaps she needs better laundry soap".
Her husband looked on, but remained silent. Every time the neighbour would hang laundry to dry, the young woman would make the same
comments.
About one month later, the woman was surprised to see nice clean wash on the line and said to her husband: "Look, she has learnt how to wash correctly. I wonder who taught her this!"
The husband replied: "I got up early this morning and cleaned our windows."
And so it is with life.
What we see when watching others depends on the purity of the window through which we look.
Easy to discuss other people, their lives and things that don't really concern us.
Yet we tend to forget- our window isn't that clean after all.
Clean up your window with the WORD! (THE TRUTH.)
LORD, please give us the strength, humility and courage that we may work on our faults first rather than seeing the faults in Others and castigating them.
Have a beautiful Week !
..click here only if you are using your phone http://pin.bbm.com/C002329DA to join to our bbm channel, or just search bbmchannel prettypeoplenaija
..click here only if you are using your phone http://pin.bbm.com/C002329DA to join to our bbm channel, or just search bbmchannel prettypeoplenaija